Serious agents.
Serious advantage.
TAN is the only online
community built
exclusively
for top 10%
real estate agents.
Sales data shows that the top 10% of agents sell 9 out of 10 homes. So as a TAN member, you can connect with the agents who have the buyers and properties you're looking for –
without all the calls and meetings.
See if you qualify for TAN
The difference is dramatic.
Members will tell you. There's life beforeTAN — and life after.
Get a shortcut right to the top producers in your market.
You'll never need to vet the other agent again. And no more missing out on opportunities for your clients. Now, you're ahead of the pack.
Show up to your listing appointment with a list of qualified buyers.
Your TAN membership gives you market insight sellers will love.
Consult with the best agents in your market on pricing.
And get your client the right price from the right buyer.
Give your buyers an edge in a crowded market.
With your direct line to the top agents doing all the business, your buyers will have the edge to come out on top.
Close with the pros.
Agents in TAN chapters across the country are sharing their clients' needs and closing more deals.
"We had offers that exceeded my client's expectations"

" I had a seller who had a lot of health issues and was really concerned about having people looking at photos of his place and people coming into his space. TAN allowed me to bring him buyers, and then offers, that exceeded his expectations. "
Connect with top agents
on properties,
buyer needs and more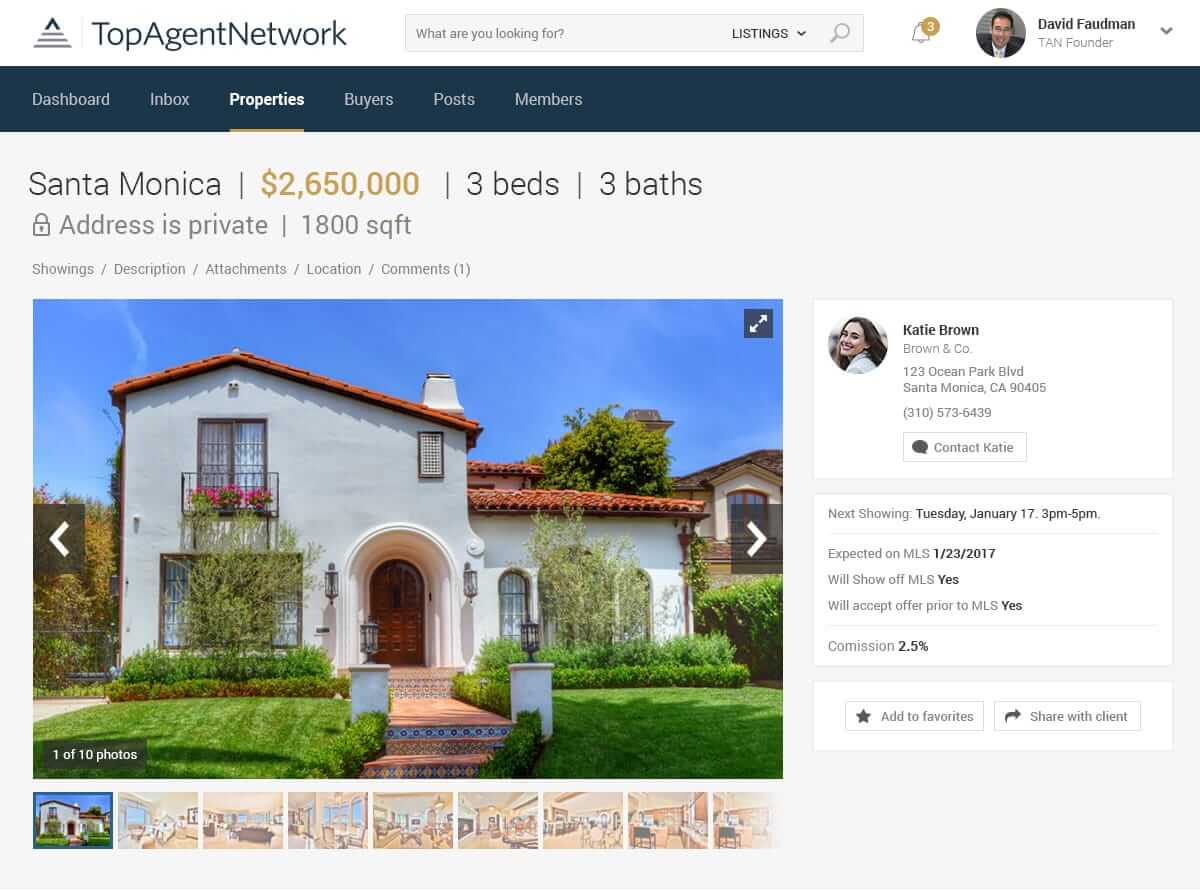 Here's how it works:
Communicate with top agents across all brokerages on not-yet-on-MLS properties and motivated buyer needs.

See a property or buyer that's a fit for your client? Just start a conversation with the agent.

Want to create a buzz for your seller's property? Or need help pricing or prepping a listing before MLS? Add the property to TAN and get the help of the most experienced agents in your area.
Close more deals quickly & smoothly
by connecting with fellow top agents
There are far too many agents out there. And not all of them are easy to work with.
Top Agent Network provides a platform that allows only the top-ranked agents in your area to network together and exchange local market intelligence.
And by working closely with the most experienced and well-connected agents, you're able to close more deals with fewer headaches along the way.
You can only become a member of Top Agent Network if your closed home sales put you in the top 10% of your local market.
The average TAN member sells 14X that of non-members in the same geography.

On average, just 10% of top real estate agents close 90% of the deals in most markets.
Over 11,000 agents in 31 chapters are
closing more deals with Top Agent Network.
Are you a top 10% agent?
See if you qualify for TAN
4 out of 5 members say TAN helped them make additional sales,
acquire new clients or impress existing clients